Member of Astro Cha Eun Woo has recently posted his handwritten letter of apology regarding the outing in Itaewon with a group of famous Korean celebrity friends.
As published on Soompi, last May 18, agencies of NCT Jaehyun, BTS's Jungkook, SEVENTEEN's Mingyu, and Cha Eun Woo were confirmed to have spent a night out together in the neighborhood of Itaewon. Itaewon is a hot topic in South Korea right now because it is the latest place where COVID19 had resurfaced.
Dispatch reported that the group of friends together with Cha Eun Woo went to a restaurant and two bars in Itaewon from the evening of April 25 until the dawn of April 26. After it was confirmed that a patient who is positive with Coronavirus also visited the area on May 2. The Central Disaster and Safety Countermeasures in South Korea were doing contact tracing and requested all entertainment facilities to provide the details of everyone who came for a visit in Itaewon between April 24 and May 6. They asked everyone who came fora visit Itaewon to do a voluntary self-quarantine to help contain the spread of the virus. Thankfully, the respective agencies of the 4 celebrities already confirmed that all of them are negative for Covid-19 after getting tested.
Because of the heated opinions and backlash coming from fans and people in South Korea, Cha Eun Woo posted a letter of apology on ASTRO's official twitter account.
The handwritten letter contained these words:
Hello, this is Cha Eun Woo.

First of all, I am sorry for causing concern to many people due to my careless behavior.

Many medical staff and citizens are still working hard to overcome COVID-19, and I also participated in the "Thank You" challenge, so I deeply regret that I had a gathering with my acquaintances at a restaurant and bars in Itaewon without practicing social distancing.

I am truly sorry about disappointing my fans who believed in me and supported me. I also apologize to the members, the agency employees, and everyone around me.

Knowing the value of the love that many people have sent me, I will be a person who thinks and acts more carefully.

Once again, I apologize for causing concern and worry to many people.
안녕하세요, 차은우입니다.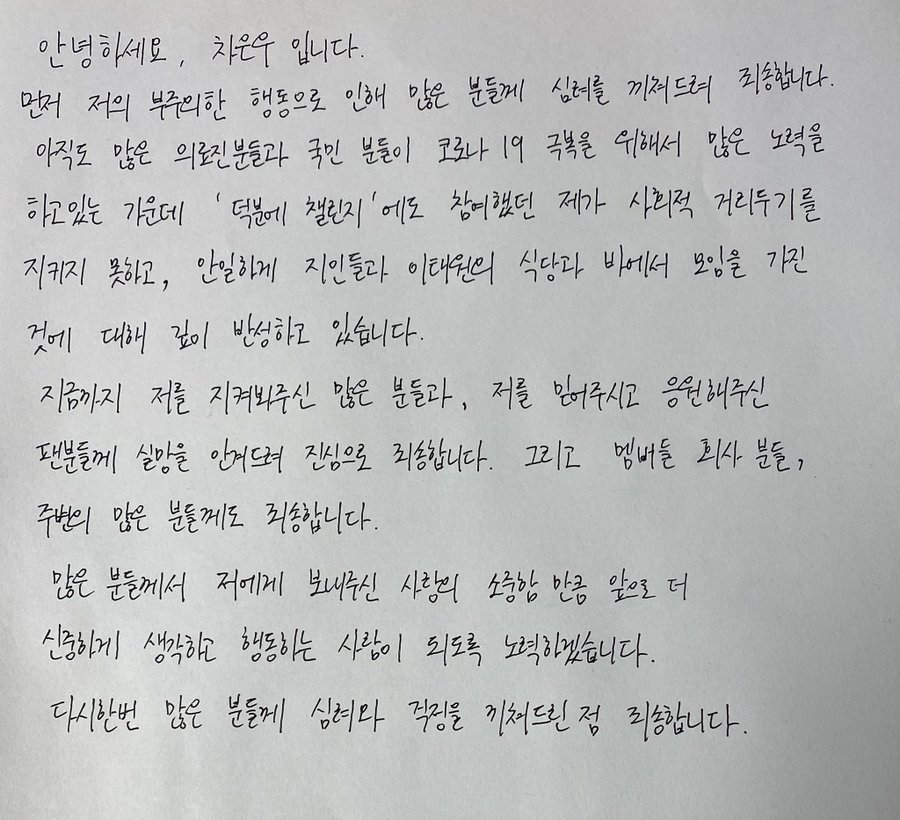 We have confirmed that Cha Eun Woo visited Itaewon on April 25th. We apologize for being careless in our management and causing concern by not following social distancing measures.
Cha Eun Woo did not go to the problematic place where there was a confirmed patient. We were told that if he did not have symptoms, it was not mandatory that he get tested. However, for the safety and health of the people around the artist, he had already gotten tested, and his results were negative.
No matter the reason, it was improper for Cha Eun Woo to visit Itaewon while the entire nation is following social distancing measures. He is also deeply reflecting on his actions.
We promise to do our best so in the future, our artists strictly follow the regulations. We apologize for causing concern.
All of the big agencies like Big Hit Entertainment, Pledis Entertainment, and Fantagio Entertainment already made their statements. While SM Entertainment has yet to announce for Jaehyun.
***
Only in the beginning of May 2020, that Astro's Cha Eun Woo was able to rank as one of the highest male K-pop idol according to the Korea Corporate Research Institute. Cha Eun Woo is seen by the public as the next promising star, this is why many fans are wondering if the Itaewon Controversy will have an impact on his career. There is a considerable decrease in the number of followers in Cha Eun Woo's social media pages because of this, but many predict that fans will soon forgive the star for what happened.
Cha Eun Woo's popularity is expected to skyrocket in the coming years. According to the Korea Corporate Research Institute, Cha Eun Woo's face is highly preferred and considered by brands out of 630 members of K-pop boy bands. His face is deemed perfect and charming. While BTS Jimin emerged on top of the rankings with a score of 6.12million on the same poll.
Cha Eun Woo as deemed as " Face Genius" as he grabs the third spot, with a score of 5.4million last April of 2020.